For Praveg Limited, diversification and expansion have always been a seamless and smooth process, and yielded lucrative returns. In the last two decades tourism in Gujarat has achieved remarkable milestones with new destinations coming up on the map of a vibrant state. With this, the state has witnessed an incredible influx of tourists from all over the country and world. This certainly creates a need to build infrastructural facilities. Praveg grabbed this opportunity and made the grade with its long-standing expertise in creating and managing resorts and exemplary hospitality – Beach Resort Daman is a case in point.
Started off as a small advertising agency, Praveg is a strong brand that delivers its excellence in event & exhibition management, skill development, media & advertising, and hospitality. Slowly and gradually, Praveg registered healthy growth and won the trust of people, who are associated with the brand in any capacity.
White Rann Resort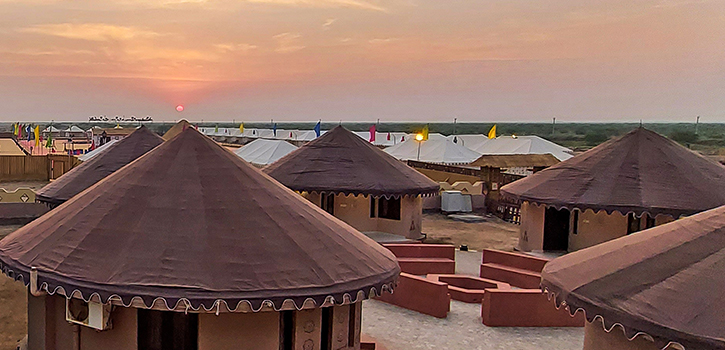 Praveg made its foray into hospitality by launching White Rann Resort at Dhordo village of Kutch. The company proudly announced its association as an official operator of Rann Utsav. A tented resort on a dusty land proved the right decision for the brand as people from diverse backgrounds appreciated this idea of living in tents and matchless hospitality.
Tent City Narmada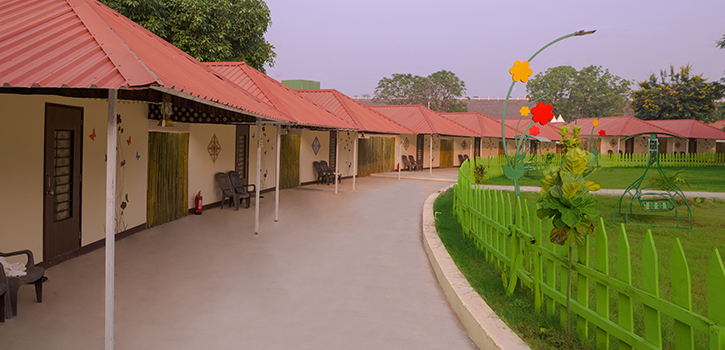 Next in line was a luxury resort at Narmada. This tented resort quickly caught the attention of travel lovers. Since location plays a pivotal role in the success of any resort, Praveg chose the land close to the Statue of Unity and Sardar Sarovar dam in Narmada district. This certainly made a huge difference in terms of beauty and business of the property.
Tent City Varanasi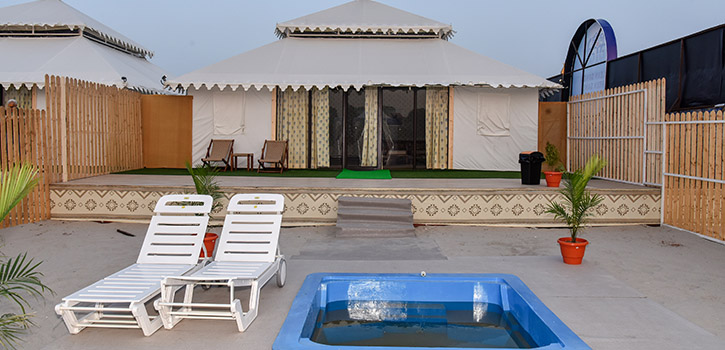 The third resort came up on the most sacred land in India. Tent City Varanasi, a luxurious resort, built in the most ancient living city in the world – Varanasi. Inaugurated by the Honourable Prime Minister of India, Shri Narendra Modi, this resort boasts an ideal location – on the banks of holy river Ganga.
Praveg Beach Resort Daman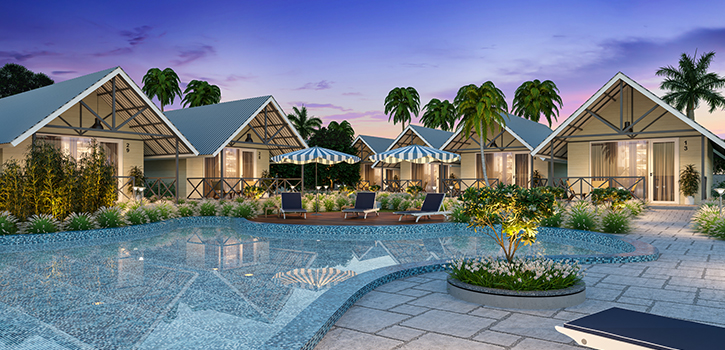 Praveg's journey doesn't stop here; there are many more milestones to be achieved. Recently, Praveg built two resorts in Daman, the capital city of Indian territory of Dadra and Nagar Haveli and Daman and Diu. Both resorts were developed on prominent locations of Daman: Lighthouse and Jampore.
The resorts boast 33 and 28 luxurious cottages respectively. State-of-the-art facilities like open views, pool-side bar, swimming pool, rooftop cafe-cum-bar, multicuisine restaurant, event lawn, and conference make it more favourable for tourists to spend relaxed holidays. However, Jampore beach resort has an edge as it offers seven machan cottages, which are eight feet above the ground. This elevated structure gives guests the best view of the sprawling sea. As long as you stay, you are surrounded by sun, sea, sand, and greenery.
With its two beach resorts in Daman, Praveg made a fantastic foray into the most pulsating coastal city in Western India. Daman is a must-go destination for those who wish to explore pristine beaches, rich history, and architecture during their travels.
This is not the final chapter of Praveg's growth story; there is more exciting stuff to have fun with. The brand is committed to launch its hospitality projects at several extraordinary locations. Two beach resorts are coming up at Diu; Praveg Safari at Velavadar, Ranthambhore, and Javai.
Praveg Glass House is a unique concept in hospitality, and set to change the face of the industry. According to the top brass of Praveg, several glass houses will be built on a mountain in Udaipur. This gives an unparalleled experience to guests, who may enjoy living in a house entirely made of glass. Last but certainly not the least, a water resort is also in the pipeline at Adalaj in Gujarat.
All in all, Praveg Limited is set to change the definition of hospitality in western India with its groundbreaking ideas and impeccable services.